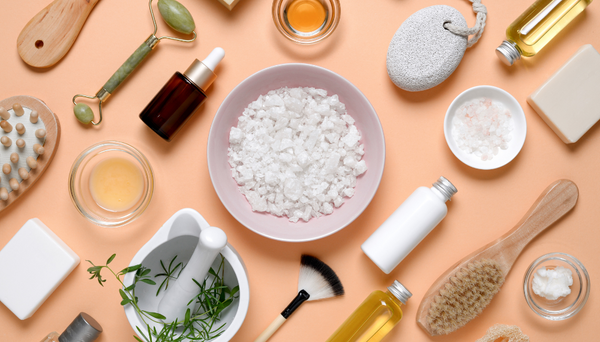 Trends and Innovation in Skin Care: Organic and Natural
Beauty trends today are seeing a huge shift to natural, organic products that restore the skin's youthful glow without the help of harmful chemicals. This is the reason why trusted natural ingredients like retinol and Vitamin C are enjoying a huge surge in popularity, especially among discerning and health-conscious consumers. Know what natural and organic ingredients top the trendy list in beauty today.
Retinol
Retinol is a mainstay in the best skin care products out there but it is enjoying a renewed surge in popularity due to its ability to naturally diminish wrinkles and fine lines. Retinol is just the fancy name for Vitamin A and while it is present in different kinds of food, retinol works its best magic when applied topically. Direct application and regular use of retinol diminishes the appearance of fine lines, improves skin firmness, evens out the skin tone and refines the skin surface. Retinol does this because Vitamin A helps stimulate the production of new skin cells, allowing cells to regenerate to give you smoother, younger, clearer skin. VoilaVe's Face Tightening Retinol moisturizer comes formulated with organic coconut oil to brighten, soften and moisturize skin for an instant glow. It also contains chamomile to soothe tired or inflamed skin, all in an easy-to-use airless pump that ensures the longevity of the formula.
Argan Oil
Argan oil has long been used in the Middle East as a diet supplement and treatment for wounds, but it has only gained its trendy status in beauty in the past few years, partly due to the demand for natural and organic beauty alternatives. Argan oil is derived from the kernels of the Argan nut and contains a potent mix of antioxidants and vitamins. These include Vitamins A, E and Omega-6 fatty acids that are known to be extremely nourishing for the skin. Regular use of Argan oil helps control oil production, strengthens skin cells and promotes healthy skin cell turnover. Its Vitamin E content, in particular, prevents cell degradation to delay the signs of aging. VoilaVe's Pure Organic Moroccan Argan Oil delivers all these benefits and more with its high Vitamin E and fatty acid content. It is USDA and ECO Certified Organic which means that it is 100% organic and pesticide-free.
LH Hyaluronic Acid
LH Hyaluronic acid is easily the best facelift option for anyone afraid to go under the knife. Popularly known as a facelift in a bottle, LH hyaluronic acid works by giving the skin an intense hydration boost. It penetrates the epidermal layers of the skin, attracting water molecules along with it. It strengthens the skin's ability to hold on to moisture and prevent moisture loss, which results in plump, firm and supple skin. The LH Hyaluronic Serum by VoilaVe uses natural ingredients with none of the fillers you see in more expensive brands. It also contains hyaluronic acid in low and high molecular weights for more effective hydration.
Rose Oil
Beauty oils are popular because they provide nutrient-packed moisturization that is luxuriously natural. Rose Oil concoctions such as those in the VoilaVe Rose Oil contain 12 natural oils that include sweet almond, argan oil, jojoba, rosehip, primrose, jasmine, and bergamot, to name a few. The oils work together to moisturize the skin, restore normal oil production, reduce inflammation, and even reduce scarring and discoloration by promoting the turnover of healthy skin cells. The calming scents also help in relaxation for a holistic treatment package for the body and mind.
Vitamin C
Vitamin C has long been an ingredient in many beauty products because it is one of nature's most potent antioxidants. However, it has recently been taking the beauty world by storm in serum form, where the concentrated formulation of vitamin C produces immediate glowing effects on the skin that no other product can give. Vitamin C strengthens skin cells, improves collagen and elastin production and repairs the damage brought on by the sun and environmental pollutants. VoilaVe's Triple Action Vitamin C Serum does all these without the fillers and harmful parabens present in other serums. It also has Hyaluronic acid that works with Vitamin C to maximize skin penetration.
Nowadays, organic and natural ingredients top the list for what's popular in beauty. New innovations in how these ingredients are delivered to the skin also allow for better absorption to produce visible and nearly-instant results.
Sources:
https://lpi.oregonstate.edu/mic/health-disease/skin-health/vitamin-C